Description
Guitar straps with a personal colorful touch
Adding this pesonalized guitar strap into your musical accessories will take your on-stage presence up a notch! With an adjustable design and multiple length options, it's sure to fit your style of play just right. The colorful name will stand out adding a touch of contrast. These quality guitar straps are made from high-quality full-grain leather, providing comfort and durability.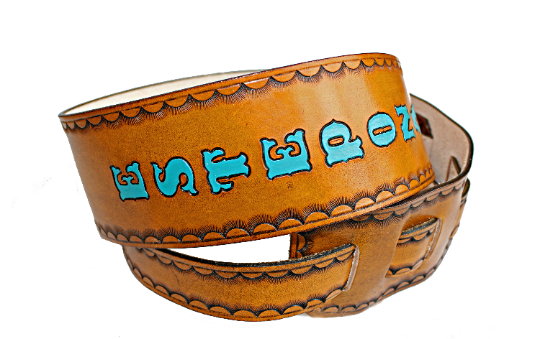 Handcrafted from 6-7 oz full-grain cowhide leather
Fits most acoustic and electric guitars
Hand-cut, tooled, stamped, dyed, painted, and finished by the shop owner.
Includes a water resistant finish on the surface
Add your name or initials up to 10 letters. 1″ size lettering will be used for 8 letters or less. If there are 9 or 10 letters, 3/4″ letter size will be used. The letters will be positioned vertically as seen in the photos. If you have numbers, the letter & number size will be 3/4″ ONLY. Please contact me with any questions.
2.5 Inches wide and includes a 1 inch wide adjustment strap.
Choose from multiple letter color options such as: fire red, turquoise, green, dark green, blue, cobalt blue, black, white, red, and yellow for added flair
Pick from Standard or the Big & Tall Long length options. (The Big & Tall Long option is recommended for anyone who is 6′ tall or taller, or who like to wear their guitar low).
Natural unlined underside allows for non-slip traction when playing
Includes standard 2 pin guitar holes for easy attachment
Made with 8 mm in diameter holes that fit most acoustic and electric guitars. These guitar straps are designed to suit standard button placement or neck 1 button placement. If you have strap locks, a neck 2 button placement, or a different guitar set up please contact me prior to ordering.
Made in the USA
This product will be made-to-order without machinery. The item will be ready to ship in 3-5 business days.
This item is hand-dyed. Slight color or natural variations from what is seen in the photo may occur.
Thank you for visiting!
Made in New Hampshire!
"Our friend really loved it! Perfect present, great quality"